H
i Glowers hope the week started on a brighter note. Eto'o is one dude you got to love not only is he a great footballer in our time, he not only made Cameroon and the whole of Africa proud but he has made many youths to believe in the ''dream big and work hard'' slogan. Eto'o has made the whole world love him and below is WHY we think you too got to love this #237BEAU
These reason might not be enough so feel free to add yours in the comment box.....wink****
Eto'o the Fashionista.
Eto'o is that one Camer footballer who doesnot only invest on his great marque sport shoes but also he is one stylish brother who has cut the attention of many fashion houses. Eto'o has shown his love for beautiful things; like cars, watches,shoes and yes very fashionable clothes too. one of those moments was when Eto'o wore a leather jacket to a live sport programme ''Le Club du Dimanche'' on
Bein Sport
Who remembers this look which he baptized The black Zorro? Cute yeah....
And Yesssssss The look that got everyone talking
did you know that this jacket cost 95,700Euros? the jacket was created by domche sport owned by a Cameroonian Idriss Domche
Eto'o The Humanitarian
Eto'o has been known to have a good heart and to always give to the less priviledged reason why he created his foundation
Fundacion Privada Samuel Eto'o
The most talked about of one of his charity works was the Yellow Whistle Blower FC initiative. The football icon is raising money and awareness amid the escalating crisis in West Africa which he says, isn't being ktalked about enough but is causing huge pain and damage.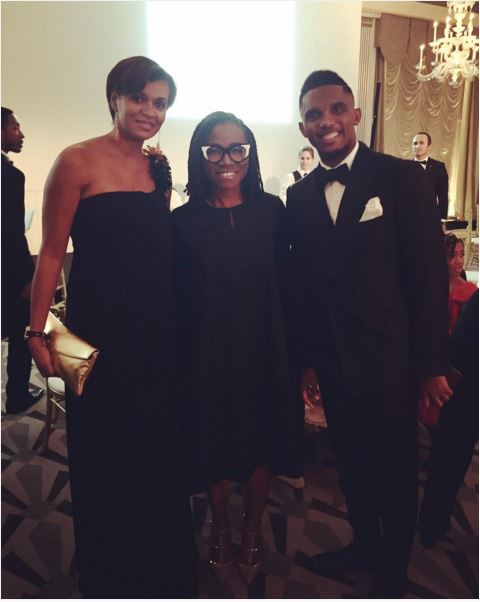 The idea behind the yellow whistle was to create a symbol of victims of bokoharam. the gala was held in london.
Eto'o The Supporter of Great talents
his that one superstar who is always supporting the younger talents all over Africa. Form the likes of Davido, Stanley Enow and even Franko just to name a few. his always giving them shoutout on his facebook;
What a good heart you have le Pichichi.
Eto'o the winner
Eto'o is a game changer where ever he goes, the Cameroonian football icon has won countless awards and one of the most recent is the Trophy of the Best Transfer in Turkey 2015.
Eto'o the great Dad
Despite his tight schedule Eto'o always create time to spend with his family and he always shares some beautiful photos on social media with his cute family
Always present with his son
Let us what you think we missed, we'll love to read from you
Never miss any of our posts again;
Like us on
facebook :
https://www.facebook.com/hallpam56/
Follow us on twitter:
https://twitter.com/GLOWbyMONAT
Instagram: @glowmonat