How would the American stars look like when dressed in an African attires? This has been answered by a young artist from Ghanaian origin, Denny Owusu designed pictures of several American A listers artist in African traditional attires and he shared this on his Instagram profile which has gone viral.
For obvious reasons, a Ghanaian fashion illustrator has got everyonein awe with his works. The results are just so amazing as it has gained the likes and comments of many on social media. Jay Z, Nicki Minaj just to name a few has been stripped off their glamorous dresses and even of their real name and has been rebaptised by Denny whom he said he was just trying to be more recreative while having fun at the same time. He named them by giving them African names like; Chris Koffi SArpong Brown for Chris Brown, Chief Ugonna Carter for Jay Z, and Nicki Maame Akua for Nicki Minaj
See The great Results of each of the artist below....
Diddy- Sean Puffy Nana Antwi Combs
Nicki Minaj- Nicki Maame Akua Amponsah
Drake- Aubrey Drake Abdul-Salam Graham
Jay Z- Chief Ugonna Carter
Rick Ross - Mazi Maame Roosey
Meagan Good - Meagan Omotola Good
Rihanna - Robyn Rihanna Amahle Fenty
Chris Brown - Chris Kofi Sarpong Brown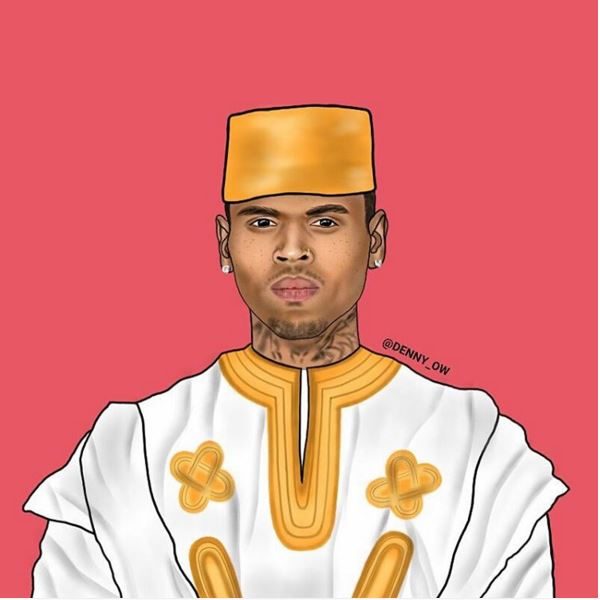 How stunning are these paintings nd which of thhis is your best? We'll love to read from you!
you can follow us on
Facebook at
www.facebook.com/hallpam56
Twitter at at
www.twitter.com/GlOWbyMONAT
and Instagram at @GLOWMONAT